Today we consider a technical analysis formation known as a 1 2 3 chart pattern. We will discuss what it is and also give some recent examples.
content
Technical analysis can be pretty intimidating if you've never used it before.
So what is it and how do you start using it?
Technical analysis uses price actions and chart patterns to analyze and predict future price movements.
The other type of analysis is called fundamental analysis and uses the financial statements and the company's own audits to predict future price movements.
Which one is better?
Neither are foolproof and it really depends on how you want to approach trading.
As for technical analysis, you are probably already doing technical analysis.
Have you ever looked at support or resistance levels?
How about indicators like MACD, RSI, CCI or moving averages?
Do you ever notice a Chart pattern like head and shoulders or triple tops?
These are all examples of technical analysis.
Today we're going to focus on one specific chart pattern called a 1-2-3 chart pattern. I will pair it with a popular momentum indicator. RSI.
Once you've been in the markets for a while, you'll learn to never base your trades on a single pattern or indicator.
We always want our patterns and indicators to provide confirmation or deviation to signal a buy or sell signal for our trading.
You can combine this pattern with a trend indicator just as well as the average directional index (ADX).
It's a trend indicator that is used to measure the strength and momentum of a trend and most likely what I would use.
I chose RSI because it's easier to explain and I want us to mainly focus on the chart pattern.
As with most chart patterns, there is a predefined series of price moves that meet the pattern criteria and provide a buy or sell signal.
The following graph shows the price pattern of a hypothetical stock named XYZ. Suppose we use the trading timeframe that you normally use.
For me this would be a 1 year daily chart.
The basic 1-2-3 chart pattern contains 4 required elements or points on the price chart for this pattern to indicate a trading signal.
1-2-3 chart pattern criteria
Low point (point A on the map)
Higher high point (point B on the map)
Tracing back from point B, but not lower than point A (point C on the map)
Reversal from point C to point B (line B on the chart) – this would be the buy signal for a long trade
I would like to briefly point out that this chart pattern can also be used for short trades by reversing any of the pattern criteria above (i.e. the first point would be the highest point).
I don't want to cause a lot of confusion, so let's stick with the long signal here.
Best of Options Trading IQ
There are also some variant entry signal criteria that can be used.
We're not going to use them, but I want you to be aware of them.
We usually wait for the price to move through the B-line, but we can adjust the entry point depending on our risk tolerance.
In both situations, another 1-2-3 chart pattern is added as a trading signal within the first pattern.
In the table below, we can see another 1-2-3 chart pattern above the B-line.
This variant would be used by a more conservative trader who really wants to make sure they have a good trading signal.
The trading signal would occur after the price crossed the 2-line.
On the other hand, a more aggressive trader may want to buy before the price crosses the B-line.
In this case, imagine the second 1-2-3 chart pattern between point C and the upward intersection of the B-line.
The trading signal is displayed after the price crosses the 2-line.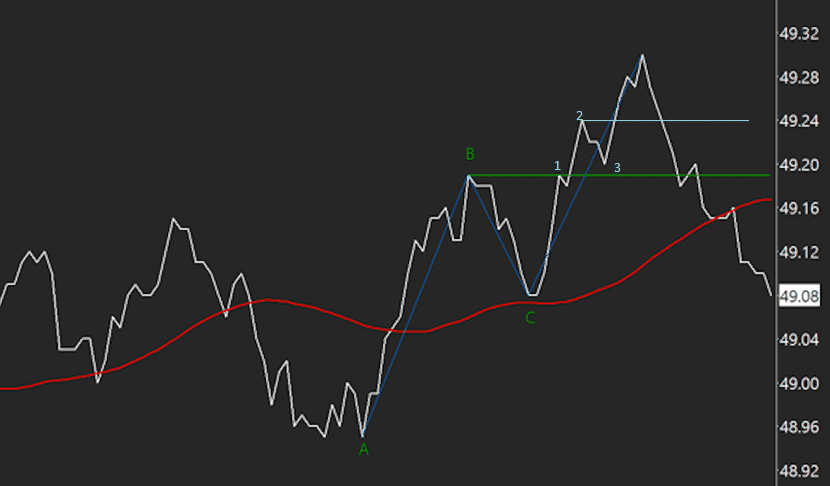 RSI is a popular technical indicator that I use a lot.
It signals overbought and oversold conditions which can help us a lot. RSI indicates an overbought condition when the value is between 0 and 100 above 70, and indicates an oversold condition when the value is below 30.
The overbought condition indicates that the price is ready to rise and vice versa for the oversold condition.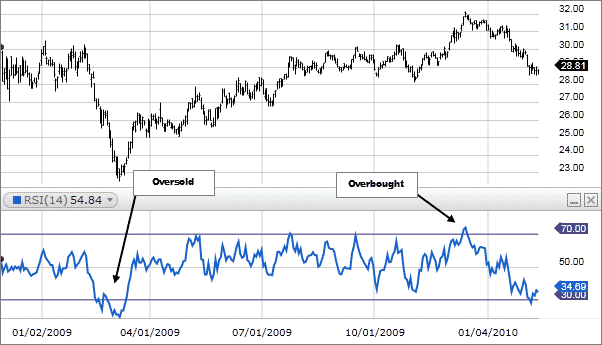 I like BABA and trade it pretty often.
We will start the price development on December 24th, 2020.
This is our A point for the 1-2-3 chart pattern, and the closing price was $ 222.
Note the RSI on 12/24/20 at 12/7 p.m. indicating that our stock is oversold and about to rally. On December 30th, 2020 we see our B point and on January 7th, 21st.
Then on 1/14/21 we see that BABA closes at $ 242.98 and is above the B-Line ($ 238.39).
Here is our buy trigger on 1/14/21 and the RSI is 58. It's a bit higher than we might like, but it tells us that BABA is not oversold and has room to rise.
Our strategy suggests a trade trigger based on the stock rising higher and great. So what should you act?
I'm a big fan of risk-defined trades and that Set credit spread (PCS) is one of my favorites.
Bull Put Spread Trade Setup
Execution date: January 14, 2021
Sell ​​1 put option, expiration 2/19/21 (36 DTE), strike $ 205
Buy 1 put option, expiration 2/19/21 (36 DTE), hit $ 200
Bonus: $ 155
Venture Capital: $ 345
Let's fast forward to 2/12/21 a week before the expiration date.
I don't like to keep winning trades in the expiration week because gamma can quickly wipe out all of your winnings very quickly.
In our case, BABA is trading at $ 267.77 on 2/12/21. This is a nice win for us.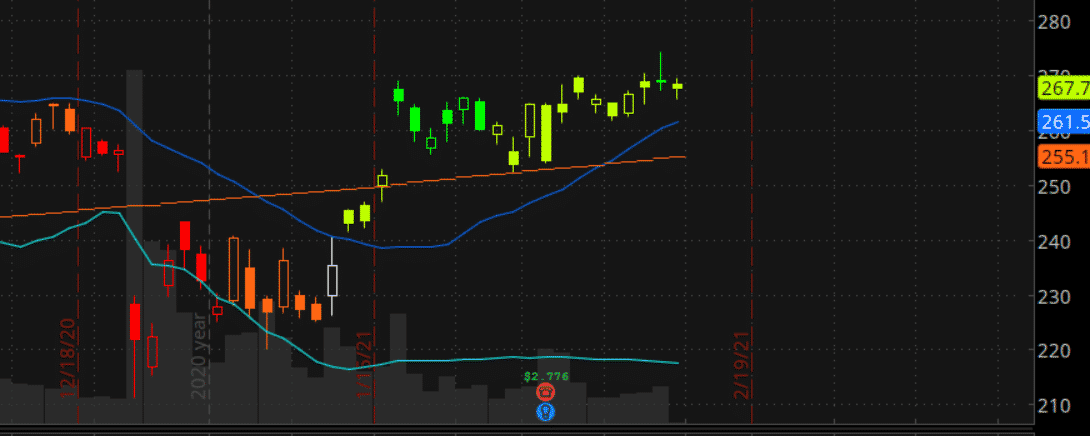 We had to raise a margin of $ 345 and received a premium of $ 155 to open the trade.
Depending on your account size, you could have easily traded 5-7 spreads as each spread only had a purchasing power reduction of $ 345 in your account.
So how did we do it?
Well, we made $ 119.90 and had a purchasing power reduction of $ 345 so our profit is 34.75% ($ 119.90 / $ 345.00).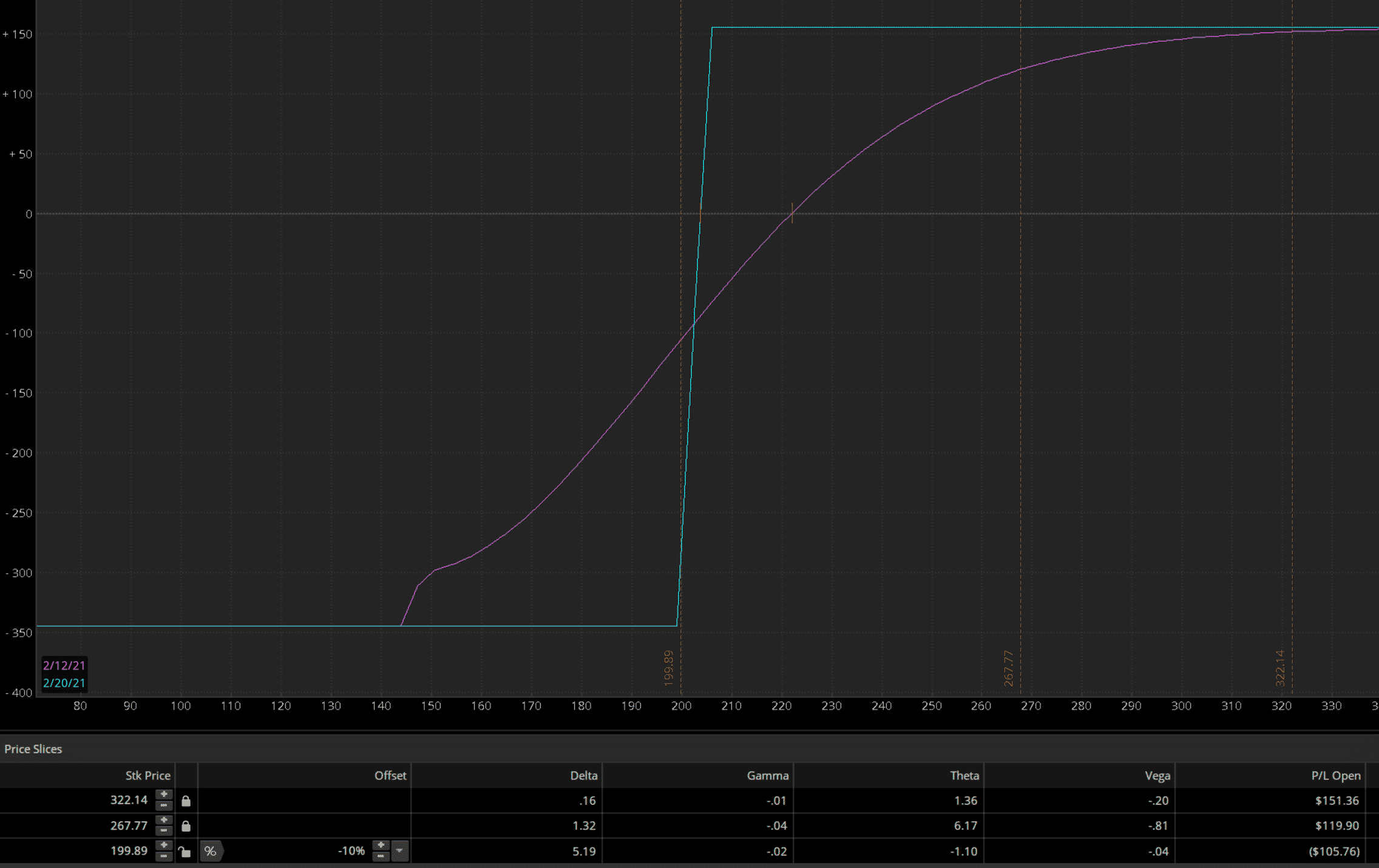 Trade safe!
Gav.
Disclaimer: The above information applies to For educational purposes only and should not be treated as investment advice. The strategy presented would not be suitable for investors who are unfamiliar with exchange-traded options. All readers interested in this strategy should do their own research and seek advice from a licensed financial advisor.